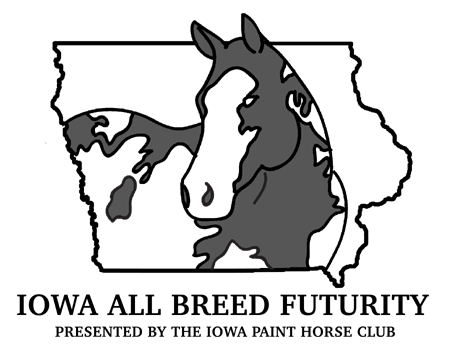 Click here for the 2018 Breeder's Futurity Payouts
Iowa Paint Horse 3 Year Old Breeder's Classic
3 Year Old Hunter Under Saddle
3 Year Old Western Pleasure
$150.00 if paid on or before August 1st, 2019
$300.00 if paid August 2nd through day of show.
Postmark will determine cutoff date on all payments.
Breeder's Futurity Information:
Breeders Futurity Rules (pdf)
Breeder's Information Letter
2018 Eligible Weanlings
2018 Eligible Yearlings
2018 Eligible 2 Year Olds
2018 Special Award
FORMS:
Mare Nomination Form (pdf)
Stallion Authorization Form (pdf)
Reclassification/Refund Form (pdf)
Foal ID Form (pdf)
IPBF Yearling Sustaining Form (pdf)
IPBF 2yr Old Maintenance Form (pdf)

3YO BREEDERS CLASSIC:
3YO Breeders Classic Rules & Entry Form (pdf)

For any questions please feel free to contact any Iowa Paint Breeder's Futurity Committee Member.