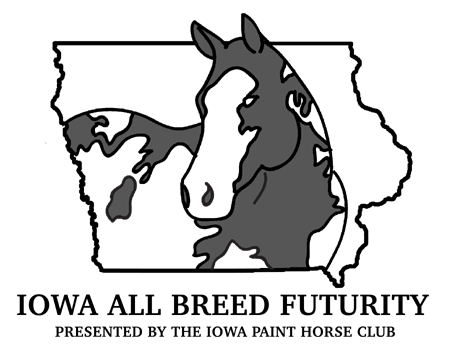 IMPORTANT NOTICE:
With much thought and discussion over the past several years, IPHC and the Iowa Paint Breeders Futurity Committee have decided to end the Iowa Paint Breeders Futurity.
There will not be a 2020 stallion auction.

We will continue to hold the remaining classes and pay out all funds over the next 3 years (2020-2022).

We sincerely thank all of our stallion owners, mare owners, participants and committee members for their support over the many years of the IPBF.

Please contact a futurity committee member with any questions.
---
Click here for the 2020 Breeder's Futurity Payouts
Iowa Paint Horse 3 Year Old Breeder's Classic
3 Year Old Hunter Under Saddle
3 Year Old Western Pleasure
$150.00 if paid on or before August 1st, 2021
$300.00 if paid August 2nd through day of show.
Postmark will determine cutoff date on all payments.
Breeder's Futurity Information:
Breeders Futurity Rules (pdf)
Breeder's Information Letter (pdf)
2022 Eligible Horses (pdf)
3 Year Award Standings (pdf)
FORMS:
Mare Nomination Form (pdf)
Stallion Authorization Form (pdf)
Reclassification/Refund Form (pdf)
Foal ID Form (pdf)
IPBF Yearling Sustaining Form (pdf)
IPBF 2yr Old Maintenance Form (pdf)

3YO BREEDERS CLASSIC:
3YO Breeders Classic Rules & Entry Form (pdf)
Iowa All Breed Open Futurity:
2021 Iowa All Breed Open Futurity Rules & Entry Form (pdf)
Iowa All Breed Eligible Stallions (pdf)

For any questions please feel free to contact any Iowa Paint Breeder's Futurity Committee Member.