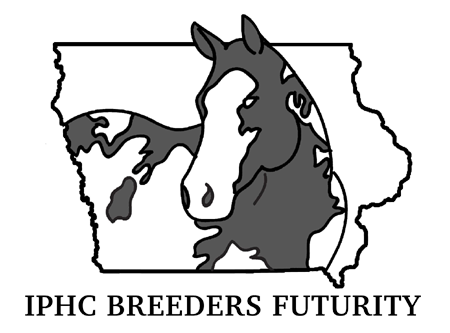 Click here for the 2017 Breeder's Futurity Payouts
Iowa Paint Horse 3 Year Old Breeder's Classic
3 Year Old Hunter Under Saddle
3 Year Old Western Pleasure
$150.00 if paid on or before August 1st, 2017
$300.00 if paid August 2nd through day of show.
Postmark will determine cutoff date on all payments.
Amy Leibold with Down The Lane Photography will be our official Futurity photographer.
Please contact her for any mini-sessions you would like to book:
Down The Lane Photography
Amy Leibold
2987 Jackson St. #2
Dubuque IA 52001
563-542-0778
downthelanephotos@gmail.com

Rule 3. D. Has been deleted. It read as follows:
The exhibitor or handler of each futurity entry, unless he or she is the registered owner of said entry or member of the immediate family, as defined by the APHA, must have been an exhibitor in the Iowa Paint Horse Club-approved shows (excluding the futurity show) and shown to a minimum of three (3) judges during the current year. Refer to APHA rules of ownership.

It is no longer necessary to have to qualify with the 3 judge rule to show other's horse at the Iowa Paint Breeder's Futurity.
If you have any questions please contact a Futurity Committee member. Thank you.

Breeder's Futurity Information:
Breeder's Information Letter
2018 Eligible Weanlings
2018 Eligible Yearlings
2018 Eligible 2 Year Olds
2018 Special Award
FORMS:
Mare Nomination Form (pdf)
Stallion Authorization Form (pdf)
Reclassification/Refund Form (pdf)
Foal ID Form (pdf)
IPBF Yearling Sustaining Form (pdf)
IPBF 2yr Old Maintenance Form (pdf)
Breeders Futurity Rules (pdf)
3YO BREEDERS CLASSIC:
3YO Breeders Classic Rules & Entry Form (pdf)

For any questions please feel free to contact any Iowa Paint Breeder's Futurity Committee Member.