*Updated 12/2/2013
Welcome to the Web Site of the IPHC!!!
For those of you interested in pre-registering for the Zone 5 show, click here for entry form.
Fill it out and submit it, but If you would, please also print a copy and bring it with you.
IPHC Board meeting 11-22-13
Iowa Equestrian Center/Cedar Rapids IA
6:30 pm

APHA NATIONAL DIRECTOR BALLOTS WILL ARRIVE VIA E-MAIL

Historically, the APHA has mailed postcards to APHA eligible voting members. This postcard contained information for voting on-line and reflected a 'voter registration number' for so doing. However, this year, these ballots will be sent via e-mail and will arrive in your IN box around September 15. Please be on the alert for the e-mail containing your National Director ballot.

The emailed ballot will be sent to you based on the current information on file with APHA. To verify this information is correct and to assure receipt of this ballot, we urge you to go to http://www.apha.com click on Member Login (red button at the top of the page), login with your member ID# and password and check your profile for your email address and make sure it is correct.
---
ALL NEW! BREEDERS CLASSIC
CHECK IT OUT!
100%
PAYBACK
3YO WP&HUS
ANY
2010 offspring from a stud purchased in the 2009 Iowa Breeders Futurity Stallion Auction is eligible!
---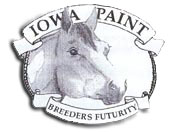 Breeders Choice Sale SITE
NEW LISTING PRICES – CHECK IT OUT!
The Iowa Paint Horse "Breeders Choice" website was founded by the Iowa Paint Horse Club in 2010 to ensure that horses bred for winning are marketed to those throughout the world who may be looking for high quality bred paint horses. As the most successful paint futurity in America, our breeders understand the time and challenges it takes to breed high quality halter and performances horses for the Paint Industry.

Thanks for stopping by....and don't forget...stop back often, breeders can list their colts at any time, before or after the big show!

Click here for more information on how you can list your horse in our new sale section!
Membership
Please be sure to read the Show Rules and Regulations posted as Membership Rules in the Membership tab, which were revised April, 2011. The main change and point of interest is number 5 under Requirements for Year-End Awards. Please note that to be eligible for a year-end award, a horse must be shown in the class to a minimum of one-half of the judges offered PLUS must show at a minimum of three weekend shows. In other words, showing at only the Memorial Day Classic and State Show will not qualify for a year-end award. This change was implemented to prevent an exhibitor from coming only to IPHC's two biggest shows and being able to receive a year-end award without supporting at least one smaller show. If you have questions, please feel free to contact one of the Board members.

Please remember to pay your membership fees as soon as possible. This will assure you receive all Iowa points for year-end awards, along with continued receipt of the Roundup and voting eligibility at the general membership meeting. Do it now and be able to forget about it for the rest of the year! If you have a website, remember that paid IPHC members get a link FREE on the IPHC website during the calendar year of payment. What better way to promote your stallion, horses, farm or business?!?

Membership due to expire???
Get your membership application here.